From our Fund Manager's Desk
We regularly explore the investment rationale of one of the companies we own in the Fund, to demonstrate what we find compelling. This time round we have chosen Anthem (soon to be renamed Elevance Health).
US Healthcare - a Blessing and a Curse
US healthcare is widely regarded as world beating in terms of cutting-edge advancements, treatment, and care. There are large drawbacks though; it is not universal, and its byzantine and incentive structure is unsustainably costly. As a result, even though the country spends more of its GDP on healthcare than other wealthy nations, it often languishes near the bottom of peer healthcare outcome rankings such as infant mortality and life expectancy.
US healthcare is unique amongst the G7 countries in that it does not have a government health service that is available to the entire population, regardless of age and income. To access its leading-edge healthcare, most of the US population is required to sign up to private insurance or government health insurance programs, with roughly 10% of the population being uninsured.
US healthcare costs are onerous relative to comparable countries as the fee-for-service payment model and threat of legal action incentivizes healthcare practitioners to spend rather than optimize. US health consumption expenditure is 19% of GDP, which is 50% higher than similar countries. The concern lies in that US healthcare costs will rise further to an unsustainable proportion of GDP as a result of an ageing population, increasing occurrence of chronic conditions and costly medical advances.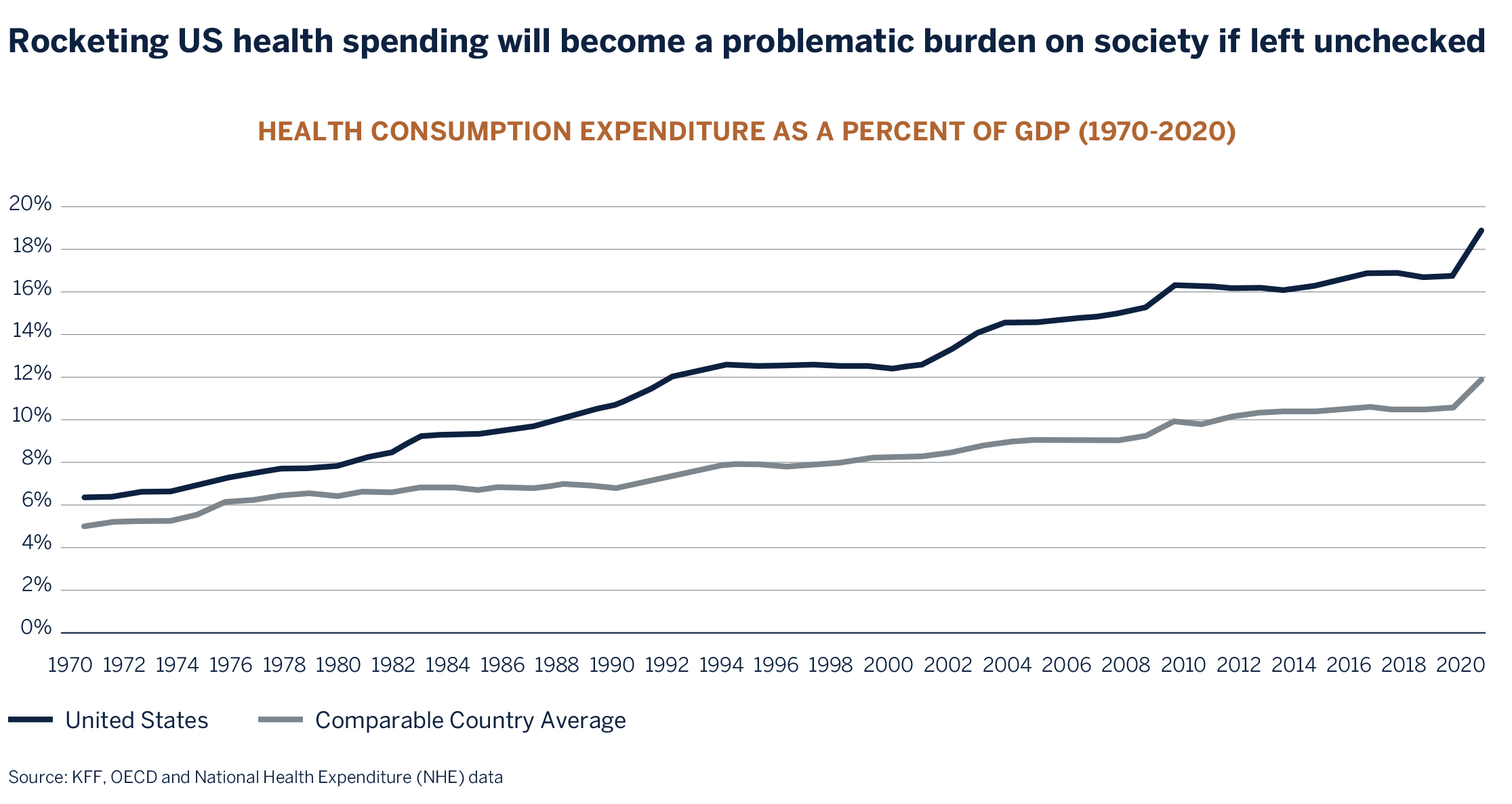 A Conduit for Change
There is a solution – MCO efficiencies.
Managed care organisations (MCOs) provide and administer health insurance and healthcare services to individuals in the US. They primarily serve individuals through employers as well as government programs. Unlike drug companies, MCOs are not subject to patent cliffs and the ongoing pressure to innovate, resulting in a more consistent profit generating business model. What we find attractive about the managed care sector, is that it plays a pivotal role in lowering US healthcare spending growth.
There has been increased focus on driving efficiencies in how healthcare providers are reimbursed by MCOs. Shifting payments models from a fee-for-service basis to value based care would ultimately lower the elevated healthcare costs by changing healthcare providers incentives from excessive utilisation of resources toward less costly treatments whilst delivering quality based care.
Anthem is one of the largest MCOs in the US and a core holding, along with its peer UnitedHealthcare, in the Melville Douglas Global Equity fund. The company has a great track record over the years of not only adding value to the US healthcare system, but also to its shareholders.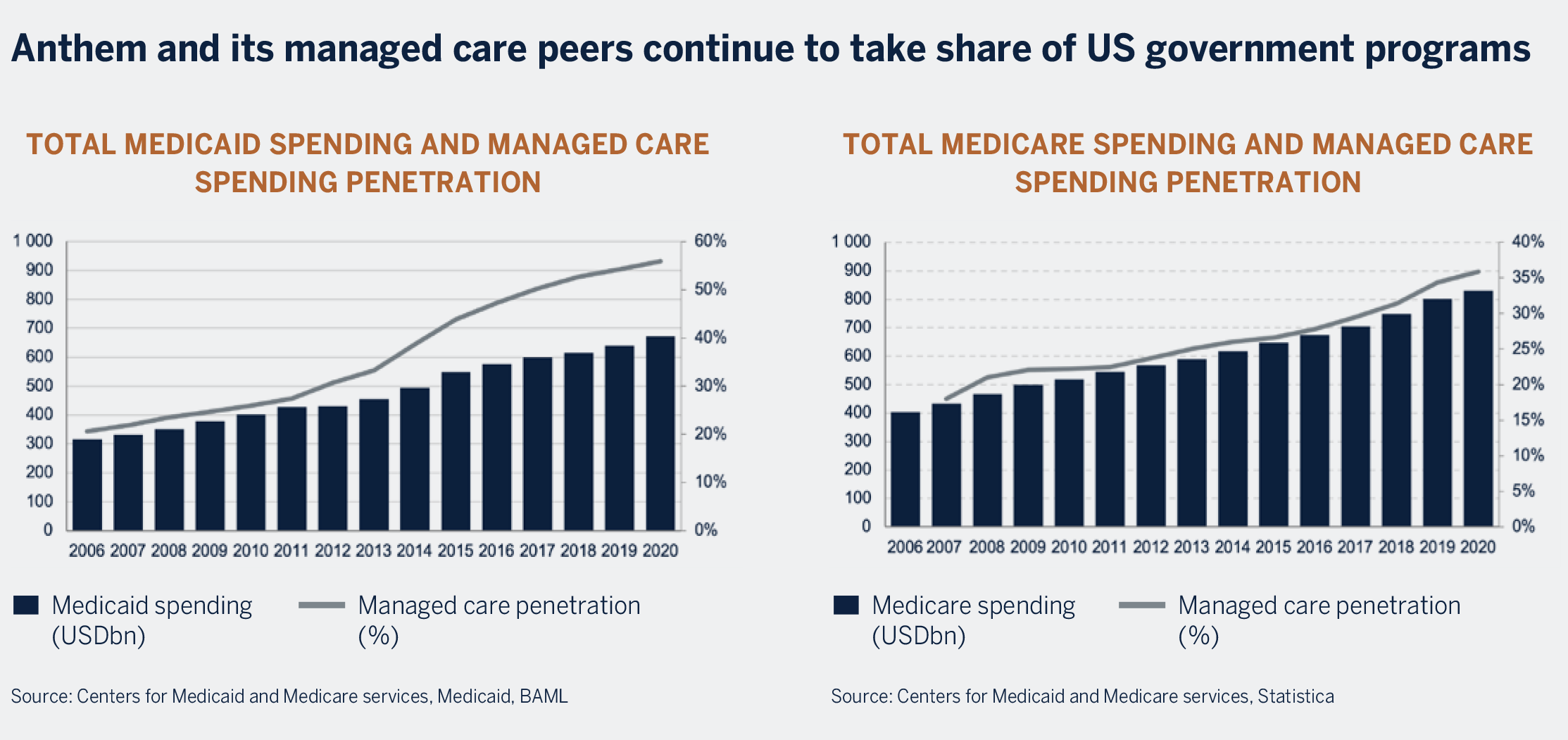 Diversification to Unregulated Earnings Drives Higher Profitability
In addition to its health insurance business, Anthem is increasingly building out its healthcare services, which is still in a nascent stage. This includes IngenioRx, a pharmacy benefit management service (PBM), which manages drug spending on behalf of health plans. PBM services manage drug coverage, rate negotiation with manufacturers and delivering medication to customers. Integrating PBMs with the health plans has been a key theme as MCOs move toward vertical integration.
Anthem's health services business (Diversified Business Group) focuses on reducing the cost and enhancing the quality of healthcare. Its healthcare services include behavioural health solutions for mental health conditions, advanced patient care and management of chronic diseases beyond primary care through care centers and home-based care.
This business has the advantage of penetrating within Anthem's customer base as well as externally. The healthcare services diversify Anthem's portfolio and contributes to reducing healthcare costs. The benefit of these services is that its growth and margin profile is stronger than the base business. We view this as a compelling strategy, as the earnings related to this business are unregulated, allowing for higher profitability than the health plan business.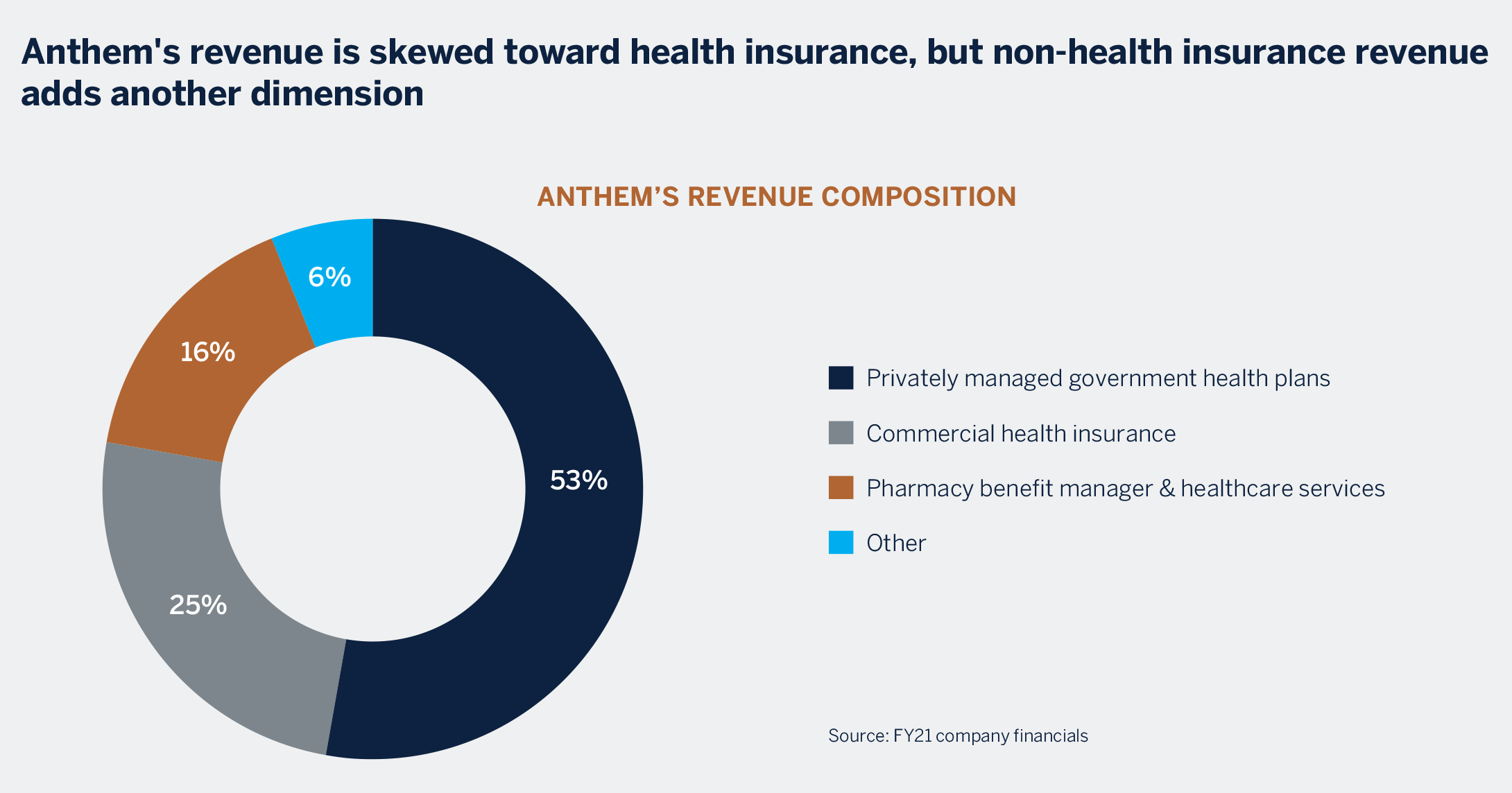 Politics and Economics - a Reliable Source of Near-Term Sturm and Drang
Healthcare is a political hot potato. Hence, US presidential election campaigns tend to create uncertainty over the direction of future healthcare policy. As the risk of lower spending could lower premiums received by the MCOs, the share price performance of the MCO sector has historically underperformed leading up to elections due to healthcare policy concerns. Once there is clarity on the direction of healthcare policy, the share price performance of the MCO sector tends to recover on easing concerns.
For Anthem, which has a sizable commercial exposure, economic downturns can result in job losses and individuals having to forgo their health insurance. While this results in slower commercial growth for the business, this can be offset by stronger Medicaid growth as individuals apply for health insurance through government programs.
An Effective Way to Profitably Capture The Inexorable Rise in Healthcare Spending
An investment in Anthem is a route to tap into both potential growth of healthcare spending (i.e. ageing demographics and increasing treatment demands by patients) and governments budget pressure to get more bang for a buck. In doing so, Anthem is likely to grow its profits in the low to mid teens. The combination of a strong track record of delivery in a stable growing addressable market, marks Anthem as a "Melville Douglas stock".